Top tips for Conference 2021
As you know Conference 2021 is a wee bit different this year. Due to Covid-19 we are meeting virtually rather than in person. We have swapped the conviviality of the pre-conference dinner for the comfort of our own homes or practices. We will miss the chatter and but will benefit from (fingers crossed) enhanced technology.
Many of you will be very familiar with Zoom from family get togethers, webinars and committee meetings but as today's proceedings involve a series of votes and opportunities to comment on proposals we thought this might help.
There are more than 80 delegates registered for Conference and so unfortunately we cannot allow you all to speak at the same time. Even the most well-intentioned attendee can drown out the event with their washing machine, small child's cries or vigorous reaction to a speaker. So when you arrive at the event you will be automatically muted.
If you would like to ask a question of one of our speakers, make a pertinent comment about the day or contribute to a motion or recommendation vote this is what to do.
In Zoom you have the option to raise your hand to indicate you would like to speak. How you do this depends on the version of Zoom you have.
In newer versions of Zoom please Click Reactions. From Reactions you can click to raise your hand by selecting the hand icon.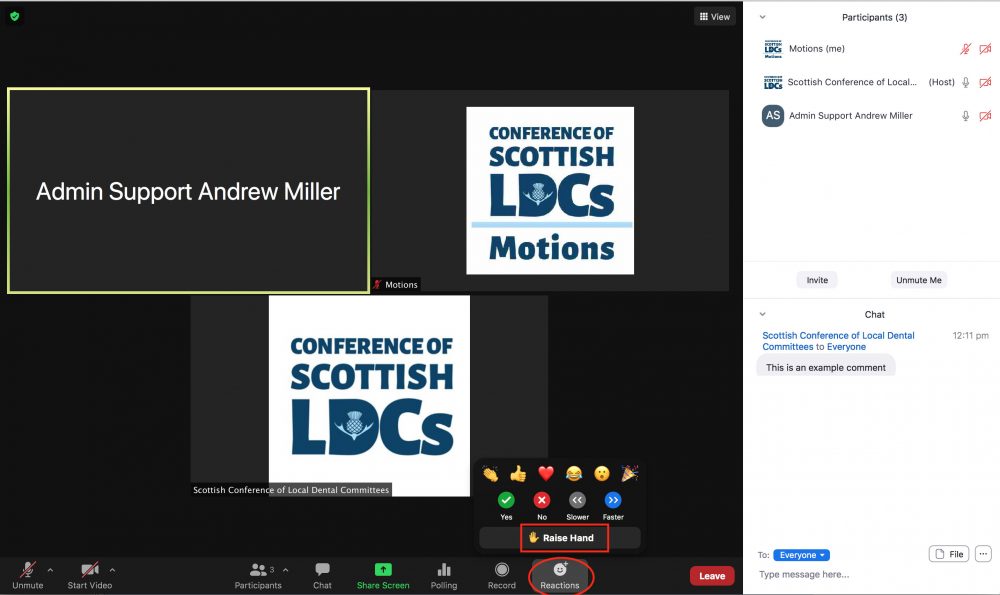 In older versions of Zoom please Click on Participants. This opens a window displaying all of the participants and below it a set of icons including the Raise hand icon.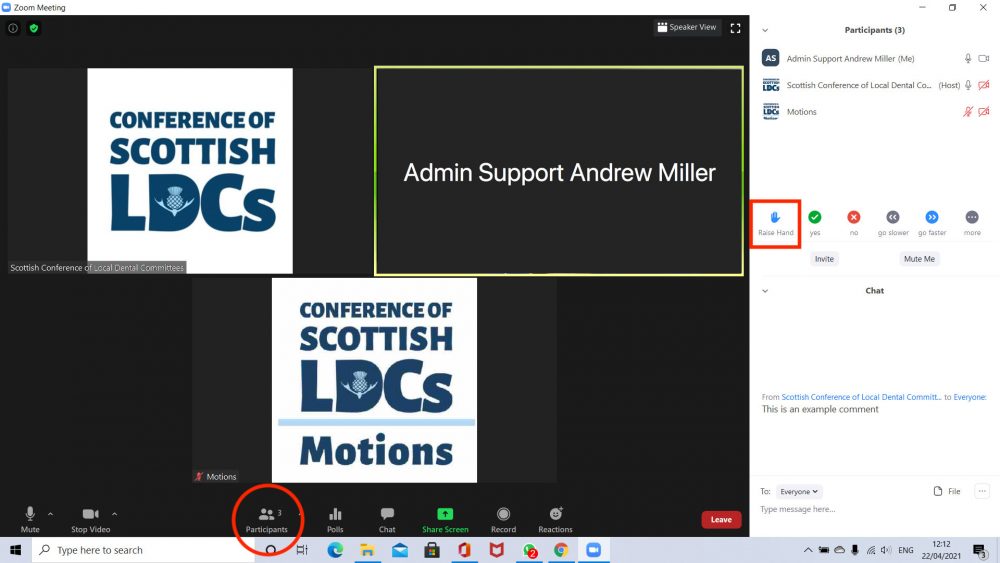 Using the raise your hand options will bring you to our event team's attention. You may then be called to speak and at this point you will be unmuted and can make a contribution.
During our Q&A sessions, the Chair has the discretion to determine how many people we can accommodate. She will give as many people the opportunity to speak as time allows.
During motions we need to adhere to the set times and number of speakers laid down in our Standing Orders. However we will attempt to give as many people as possible the opportunity to speak to motions within these parameters.
At the beginning of Conference we would be delighted for you to use the Chat Area to say hello and catch up with colleagues. Once Conference begins you can still send comments to colleagues but Chat will also be used to pose questions so please be aware that comments may get lost in a sea of traffic.
To access the Chat Area of conference please just click on the Chat Tab which should be visible on Zoom. This will open a window within Zoom where you can see other people commenting and can contribute yourself.
You can chat to 'Everyone' or select a particular participant to chat privately.
We know that you will use the chat function responsibly but please (insert Patricia's comment). Remember that if you are chatting privately you need to change this to 'Everyone' if you have a general comment.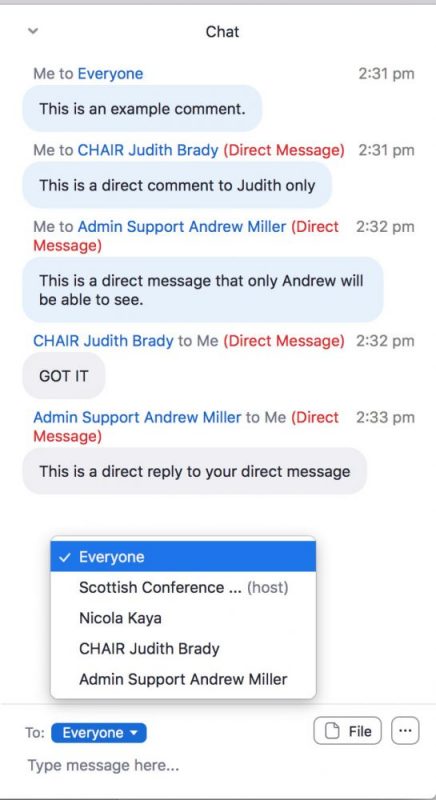 Voting is restricted to LDC delegate representatives only.
During Conference we will use two methods to vote on Zoom. In the morning we will use the Participants/Reactions option for recommendations and in the afternoon the Zoom Poll option for elections and motions.
Recommendations and reports
This applies to the Returning Officer, Scottish Dental Fund and Conference Treasurer's Report. When prompted CLICK on the green tick for YES and the red cross for NO.
In newer versions of Zoom please Click Reactions. From Reactions you can vote by selecting the green tick or red cross icons.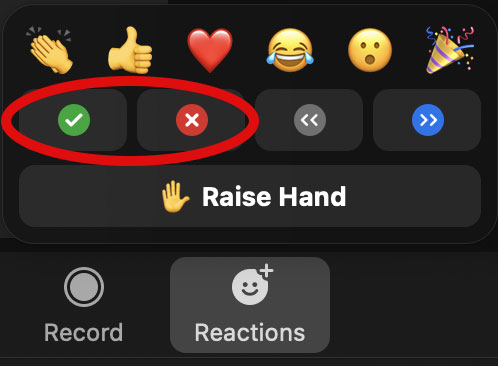 In older versions of Zoom please Click on Participants. This opens a window displaying the green tick or red cross icons (for most people at the bottom of the window).

You will be asked to vote yes or no to approve or reject the following (if you do not vote this will be counted as an abstention)
Appointing the returning officer
The report of the Conference Treasurer
The report of the Chair of the Scottish Dental Fund
The four recommendations proposed by the Scottish Dental Fund
When prompted simply click yes or no.
This applies to contested elections and Conference Motions. Only LDC delegate representatives can vote.
An election will be called or a motion will be proposed and debated and then the Chair will call for a vote.
A Zoom Poll will be displayed and you will be asked to submit your vote. In an election this will ask you to choose between the candidates. For a motion you will be asked to submit your vote For, Against or to Abstain. You must press Submit to register your vote.
The result will be displayed and the announced by the Chair.
Where a motion is not fully displayed on the poll due to space restrictions you can refer to this in your Motions PDF.